HISTORIC PRESERVATION COMMISSION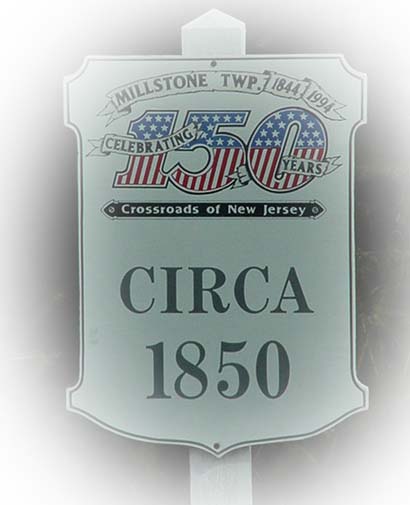 Did you know that George Washington slept here? Well...not really. However he did have troops in town that stayed in the tavern called Rising Sun in Clarksburg. How about the rumor that Abe Lincoln's ancestors came from this area, or the fact the "Teddy" Roosevelt had a presidential retreat in the neighborhood of Disbrow Hill. Surprised??? There's a wealth of historical information and folklore in this little haven we call Millstone Township. The Historical Commission is inviting anyone who is interested in history to join us in uncovering and recording our local past. We meet every three months, third Monday of the Month at the Municipal Meeting Room at 7:00pm.
Our current projects include collecting artifacts and photos. Do you have a few old relics in the attic that you might want to share with your neighbors? How about that old photo album you haven't looked at in years. We would like to collect pictures of people and places around town. Hopefully with everyone's efforts we'll be able to print out our own pictorial history book. Your pictures are yours to keep we just need to borrow them for about 1/2 an hour. Your treasured photos will be copied right here in town with no harm to them or cost to you. Please E-mail us for more details. Join us for the fun of collecting history in the town you call home.
When this day is over, it becomes history. History is a very important part of our lives. We reflect on it, we enjoy the memories it gives, it connects us to our family, friends, and community. Be part of the connection. Join us!
Historical Commission News
The Township saved two historical buildings, the Clarksburg School, which was built in 1925, and the Clarksburg Methodist Church. The Township has kept the historic value of the school building in tact, while using it daily as municipal offices. The Church, which was donated to the Township, has been completely restored.
Miscellaneous Historical Information
Escalation of School Costs -- Per Pupil
1849 (paid by parent) .03 per day
1853 possibly not the full costs .04 1/2 per day
1856 .08 per day
1970 4.50 per day
A few miscellaneous prices in 1850
23 lbs. of wheat flour .69
1 bushel of corn 1.40
1 paper of tobacco .12 1/2
16 pounds of sugar 1.00
4 POUNDS OF COFFEE .50
9 POUNDS OF VEAL .45
1 PECK OF POTATOES .12 1/2
Building of house 16 by 16 $45.00