Veteran's Memorial Council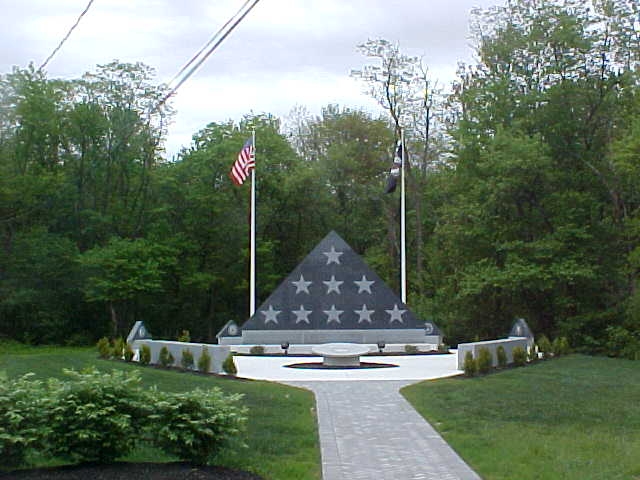 History and member qualifications:
Millstone Township's Veterans Memorial began from an idea by founding Millstone resident members John (Jack) McLaughlin, USN (ret.) and Jeffrey Miller, USA, to create a monument for Millstone Township honoring all U.S. Military Veterans. Millstone's Veterans Memorial Council was officially recognized by Township Ordinance in February, 2001. A future memorial site was selected on township owned land adjacent to the old Clarksburg schoolhouse. Through hard work and dedication by the Council's members and Millstone's community, pledges for contributed services by contractors, personal contributions, and monies authorized by the Township Committee to purchase a granite monument design by NJ sculptor Blaise Batko, the vision of a Veterans Memorial began to take shape. Ground breaking occurred on Veterans Day, November 11, 2001, just two months following the tragic events of 9-11-01. The completed Veterans Memorial was dedicated on Memorial Day 2002. On that day, Millstone Township held its first official Memorial Day parade and ceremony since 1945.
In 2003, the Veterans Memorial Council was made a permanent council by Township Committee resolution. The Council is responsible for proper maintenance of the Veterans Memorial and display of flags. The Council annually organizes Millstone's Veterans Day ceremony and Memorial Day parade and honors ceremony, in keeping with military tradition and governed by federal statutes. The Council is comprised of seven regular members and two alternates. Council members must reside in Millstone Township, and remain residents throughout their service. To qualify for membership, individuals must have served honorably in the US Armed Forces, or be members of the US military or reserves. The council fills vacancies through nomination and election of qualified candidates. To qualify as a candidate member, proof of honorable service, i.e., DD-214, honorable discharge, or a valid military ID card is required. Council officers are elected by its membership to serve a term of office of three years. Persons wishing to serve on the Council in the future by being considered to fill vacant positions should send their resume and qualifications to Raymond Dothard, Chairman, Millstone Township Veterans Memorial Council, 470 Stage Coach Road, Millstone Township, NJ 08510.
Veterans Hotlines:
Counseling Hotline - 1-866-VETS-NJ4U
Benefit Hotline - 1-888-8NJ-VETS
Veterans Web Links:
Veterans Benefits - www.vba.va.gov
Americans at Work - Veterans | U.S. Department of Labor (dol.gov)
Information for Iraqi Freedom Veterans - www.va.gov/gulfwar VA

Services for returning Iraqi Freedom and Enduring Freedom Veterans - www.vethealth.cio.med.va.gov

Military One Source - www.militaryonesource.com
Mesothelioma Cancer Resource -http://www.asbestos.com/
Mesothelioma Guide - https://www.mesotheliomaguide.com/veterans/
New Jersey Department of Military and Veterans Affairs (NJDMVA) -
Veterans e-guide
http://www.state.nj.us/military/veterans/njguide/index.html">www.state.nj.us/military/veterans/njguide/index.html
Millstone Township Veterans Graves Map - This map allows one to search for graves of veterans within Millstone Township. Using the search bar, one can look for veterans based on their military branch, rank, location, and other information. A veteran's grave is represented by an individual pin on the map, which when selected, will provide a picture of the grave and any information about the veteran. This research was done by Millstone Township resident Jacob Normand as part of his Eagle Scout project.